Christina Courtenay Travels & Research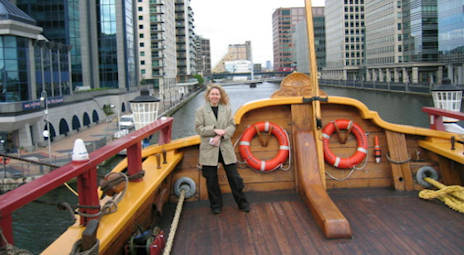 When it comes to research, there is no substitute for going to the places that you will be writing about. No amount of reading or online research can touch all your senses in the way that being there does.
Raglan Castle & the English Civil War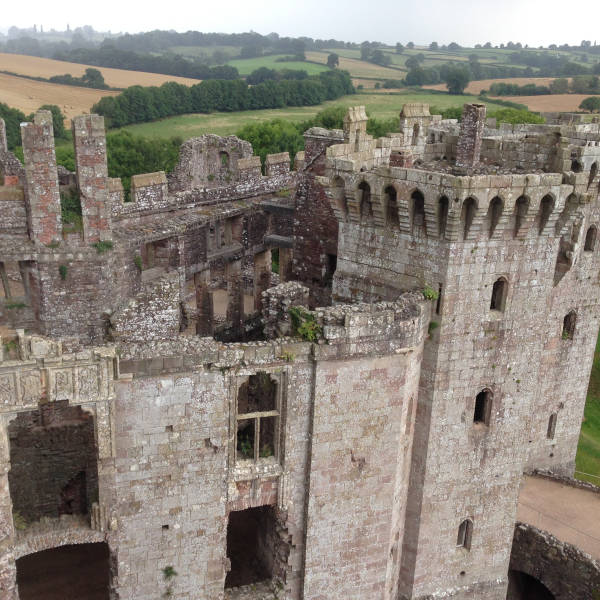 Raglan Castle seen from its highest viewpoint
When I moved to Herefordshire, I discovered that I lived fairly close to Raglan Castle. As I can never resist anything like that, I went to have a look and became captivated by the sad tale of how a once magnificent castle became what it is today - a beautiful ruin. It inspired me to write
The Velvet Cloak of Moonlight
which I hope gives an accurate account of the castle's final days before it was destroyed forever.
It all happened at the end of the English Civil War, in 1646. At that time, Raglan was owned by the Marquis of Worcester, a staunch Royalist who had supported King Charles I throughout the war, both by giving him lots of money but also by sending troops. The Marquis was an elderly gentleman, nearly 70, but still formidable and very stubborn. As most of the Royalist forces and strongholds had surrendered to the Parliamentarians by the beginning of the summer, he must have known he was fighting a losing battle, but he still decided to make a last stand.
---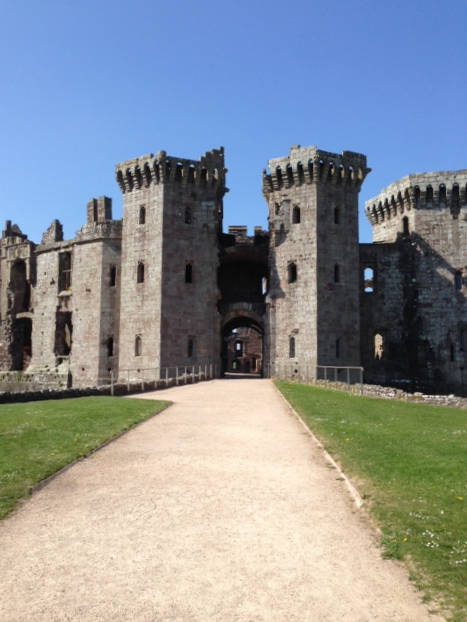 Raglan Castle, the new gate
The Parliamentarians came to lay siege to the castle, and the Marquis and his garrison of 800 men (and some women and children) held out for nearly ten weeks. In the end, however, they had no choice but to surrender, and on the 19th August 1646 they marched out through the gates for the last time. Lord Worcester was taken prisoner and escorted to London (where he died soon after of natural causes so was never tried), while everyone else was allowed to leave unharmed as long as they promised not to bear arms against Parliament again.
---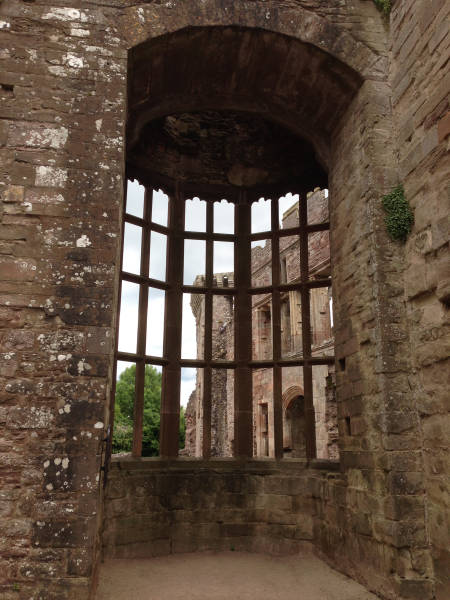 Raglan Castle, the oriel window
Just to make sure no one else could use the castle against them, the Parliamentarian troops did their best to destroy the buildings but there is enough of it left for visitors to get a good idea of what it must have been like. I love it and find it very atmospheric - well worth a visit if you're ever passing!
Plymouth & the English Civil War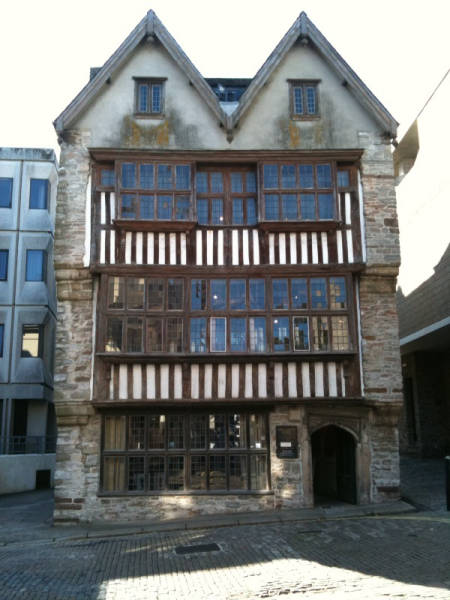 Plymouth Merchant's House
Plymouth seems to have been the only west country town to have held out for the Parliamentarian cause throughout the English Civil War, and I found it very interesting to research this period of the town's history. Personally, I have always favoured the Royalists (well, I am a romantic novelist and what could be more romantic than the Cavaliers?), but for this story, I had to argue the case for the opposition, as it were, which was fascinating.
In order to study the layout of the town, I visited Plymouth several times, and in particular the so called Merchant's House, which is from the 17th century. I was able to use it as the setting for my heroine's relatives and seeing it firsthand made it much easier to envisage her reactions upon arrival.
---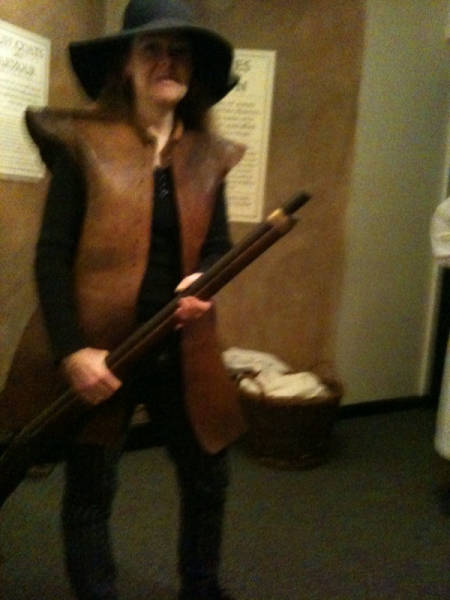 The Nice People in Plymouth Gave Me a Musket to Hold
I also researched lots of other things to do with this period, of course, and among other things I had a very enjoyable day out at 1646 Torrington, in Great Torrington in Devon. There they have a permanent exhibition about the time of the English Civil War.
Visitors are given talks on things like clothing, weapons and medicine for this period and I had a wonderful time imagining myself back in 1646. Although I didn't get to try on the women's clothing (someone else did that), I wore a man's leather jerkin (which was amazingly heavy due to the fact that it was made of thick buffalo hide!), a Puritan style felt hat and I was given a musket to hold.
---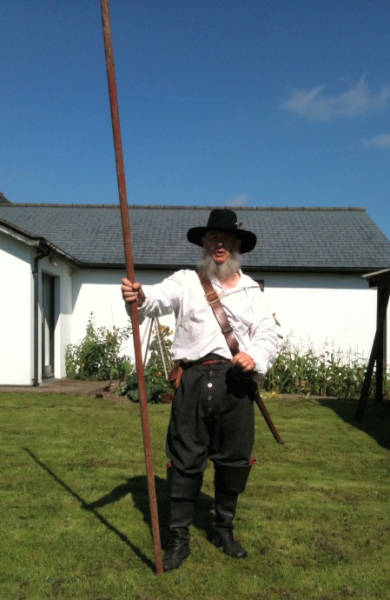 How to Correctly Hold a Pikestaff
Later, I learned how to load and fire the musket (in principle only, I didn't actually shoot or anything) and how to fight with a pike as part of a 'hedge-pig' formation.
Finally, I had a lesson in medicinal plants, which came in very handy when my hero and heroine needed medical treatment!
Scotland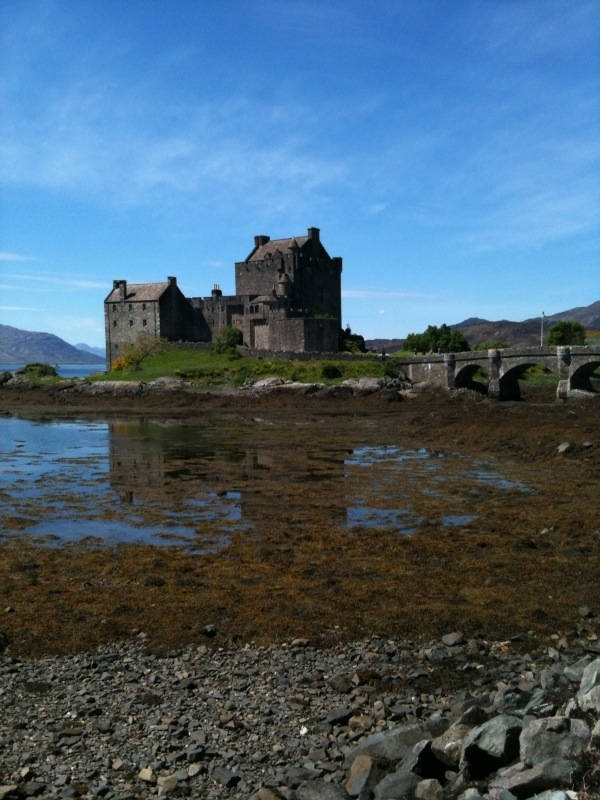 Eilean Donan Castle
I enjoyed all aspects of researching
Highland Storms
, because I love Scotland and all things Scottish. It was a great excuse for visiting the Highlands and taking my daughter to see Loch Ness, where she hadn't been before. Urquhart Castle, Eilean Donan and all the other sights we saw were breathtaking.
We also enjoyed getting to know a small herd of Highland cattle (which are also mentioned in the story), owned by a friend of mine. The calves were adorable and some of the bigger animals allowed us to go near and even comb them! (I was a bit wary of those horns though.)
---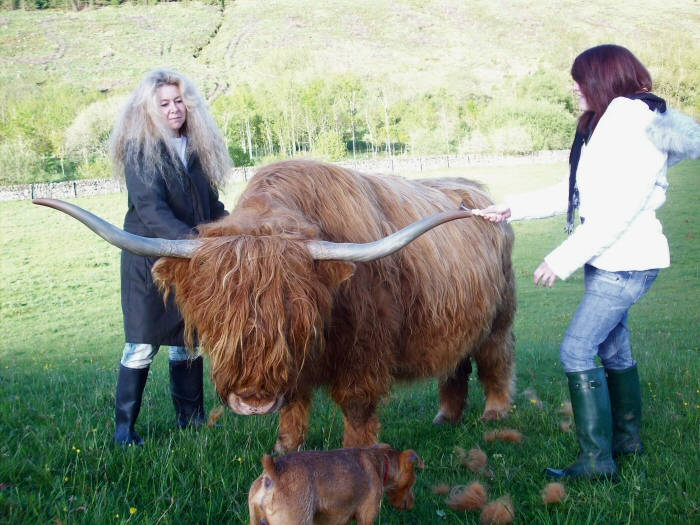 Meeting Highland Cattle with my Daughter
We drove around to look at the Highlands in general and had a look at several places which I later used as background for my fictional Scottish estate. I also stuck my hand in a loch to make sure the water wasn't too cold for swimming in (it wasn't, although I'd prefer not to try it for myself).
---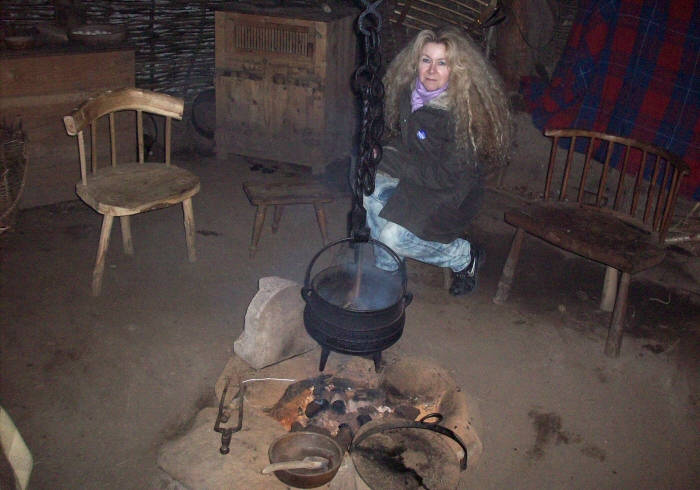 Crofters Hut Interior
There really is no substitute for actually visiting a place if you can in order to see the setting and I was lucky enough to find an open air museum where you could sit next to a real peat fire in an old-fashioned hut to see what it was like. Brilliant! (I would never have realised how much my hair stank of smoke afterwards if I hadn't done that.)
Japan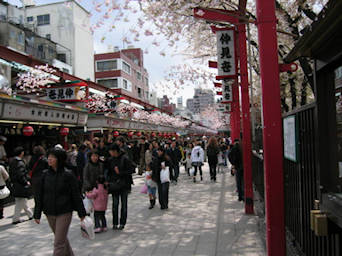 Tokyo Street Scene
Japan is a fascinating country and I feel very lucky to have lived there, albeit only for three years. I recently went back, ostensibly for research reasons, but a little retail therapy was of course also necessary (although perhaps five suitcases full might be considered just a little bit OTT?).
I love everything about Japan - the food, the people, their orderly way of doing everything - and Tokyo is a great place to start. I'm always amazed at the way skyscrapers and modern buildings co-exist happily with traditional places like temples and shrines. You never know what you're going to encounter next, which makes every excursion exciting. The Sensoji temple at Asakusa is definitely worth a visit, as is the fish market at Tsukiji, Harajuku with all its crazy shops (and shoppers!) and Yoyogi Park where one can find anything from 50's style boppers jiving to their favourite music to heavy metal bands playing to an audience of three. Great stuff!
---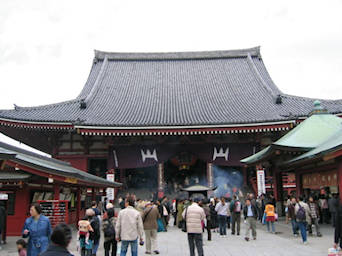 Asukasa Temple
Another favourite place of mine is Kyoto, which seems to be an entirely different kind of city. Here the pace of life is slower and one is enveloped by a feeling of "old Japan" and the sense of tradition. Spectacular temples (Kiyomizu-dera up on the hills overlooking the town and Kinkakuji - the Golden Pavilion - set in perfect landscaped gardens for example), the old town where real geishas can be seen strolling around and in the centre of Kyoto, Nijo Castle, one of the former homes of the Shogun. This is well worth a visit if only to walk on the so called 'nightingale floor'.
---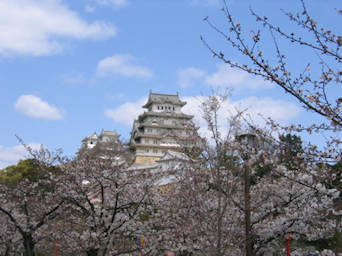 Himeji Castle
While in Japan, I also had the great pleasure of visiting one of the most wonderful castles in all of Japan - Himeji. I felt transported back to the age of the samurai. Of course it helped that we timed it just right and our visit coincided with the cherry blossom season. The views were quite literally breathtaking!
---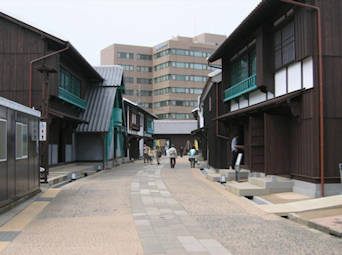 Dejima Main Street, Looking towards Nagasaki
Finally, I also went to Nagasaki and specifically Dejima, the tiny man-made island near the harbour there. It was built in the shape of the Shogun's fan and was the only place the Dutch traders were allowed to stay from 1641 to 1853. They couldn't so much as set foot on the mainland, which must have been extremely frustrating for them. After having been lost for years due to landfill all around it, the Dejima site has recently been excavated and some of the original buildings reproduced in order to show visitors what it used to be like. It was wonderful to see it, having read so much about it, and I can thoroughly recommend a visit if you are ever in Nagasaki.
In fact, any part of Japan is worth visiting, it's simply a wonderful country!
---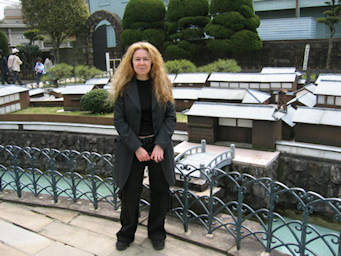 Me with Model of Dejima
"Trade Winds" The Sailing Ship Götheborg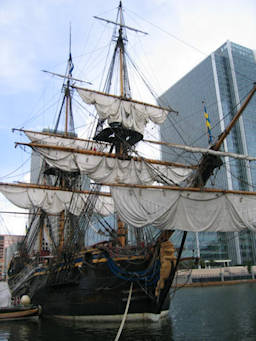 The Götheborg Moored at West India Dock, London
The original East Indiaman "Götheborg" was built in 1738 and made three journeys to China, two of which were very successful. The third one, however, ended in disaster. On 12th September 1745, the ship ran aground just outside Gothenburg, right in front of all those who were waiting expectantly for its return. Fortunately no one was killed and some of the cargo was rescued, but it was still a terrible shame when they were so close to their goal after having been away for more than two years.
---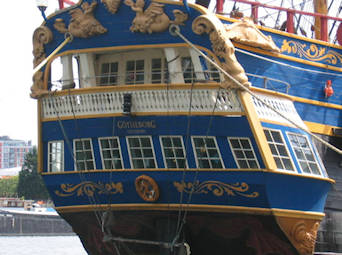 The Götheborg's Beautiful Aft View
The investors at the time can't have been very pleased, but thanks to this accident, modern day shipbuilders were able to build the replica. This was done using traditional methods and the same raw materials as the original ship, although the new "Götheborg" contains modern equipment for navigation, cooking and so on, things a 21st century crew couldn't do without.
---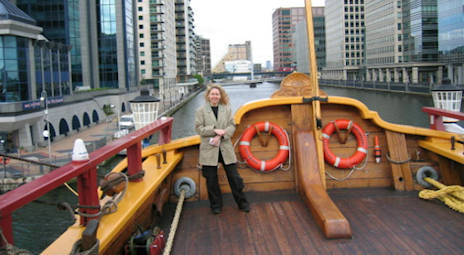 Me on the deck of the Götheborg
---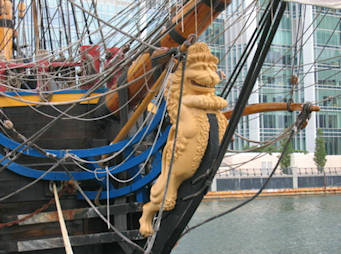 The Rampant Lion Figurehead of the Götheborg
To read more about "Trade Winds" please
click here
.
"The Scarlet Kimono": Champion Sumo Wrestler Chiyonofuji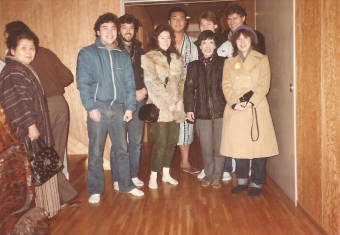 Chiyonofuji Mitsugu
Chiyonofuji Mitsugu, the 58
th
Yokozuna (champion) of Sumo wrestling, nick-named "The Wolf".
This unusual wrestler revolutionised the sport by doing weight training - he was known for being able to literally lift much heftier opponents out of the ring, some as much as twice his size! He became a champion at the age of 26 (in July 1981) and was one of the most successful sumo wrestlers ever. His explosive speed and muscular body helped him to secure victory after victory and the slightest hesitation on the part of his opponents always resulted in a loss for them. When he retired in 1991, aged 35, the sport lost one of its undisputed stars.
---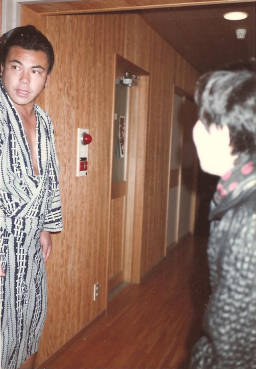 Chiyonofuji Mitsugu
Like all sumo wrestlers, he lived and trained at a so called "stable" in Tokyo and I was lucky enough to visit once, together with a group of family and friends. We were allowed to sit at the edge of the training hall and watch their morning routine, and Chiyonofuji was amazing. Despite his size, he was able to do the splits and we were fascinated to see his training methods. Afterwards, he graciously came to say hello and allowed us to take some photos. It was a day I'll never forget.
To read more about "The Scarlet Kimono" please
click here
.
Vikings!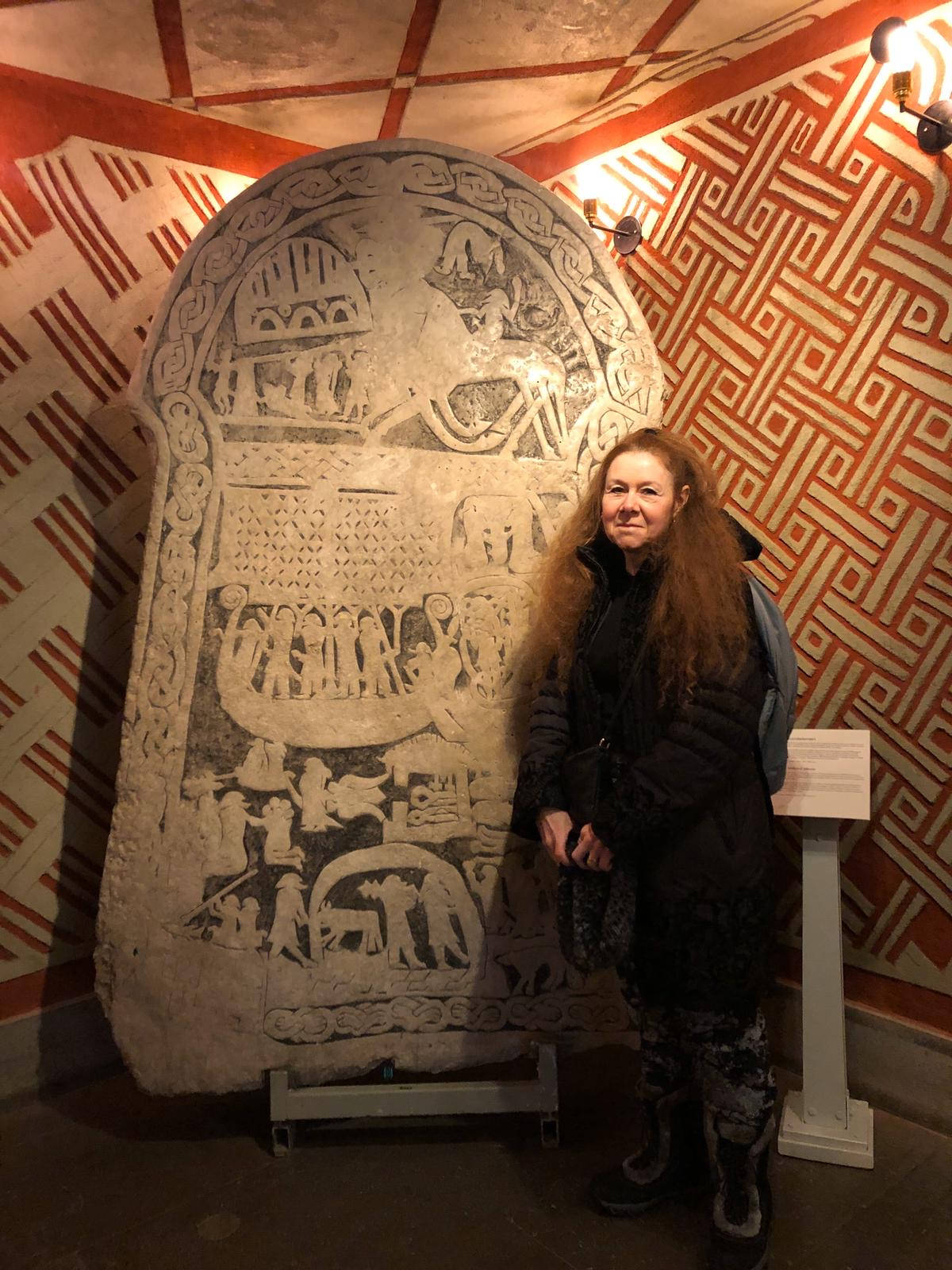 Viking Research: Me standing next to a rune stone
Vikings! For my latest series, starting with
ECHOES OF THE RUNES
, I've been researching the Vikings and that has meant visiting as many museums and sites associated with them as possible. Here are just a few of the things I enjoyed seeing and doing in the name of research:-
The Historical Museum in Stockholm, Sweden - this is a wonderful place full of Viking artefacts, with a new display set to launch in May 2020. The most important part of this place for me, however, is the so called Gold Room. This is a vault dug out beneath the museum which houses incredible amounts of gold and treasure from all around Sweden, a lot of it from Viking times. The ring my story is based on can be found there, as well as all manner of other amazing items. Do go and see it for yourself if you get the chance!
---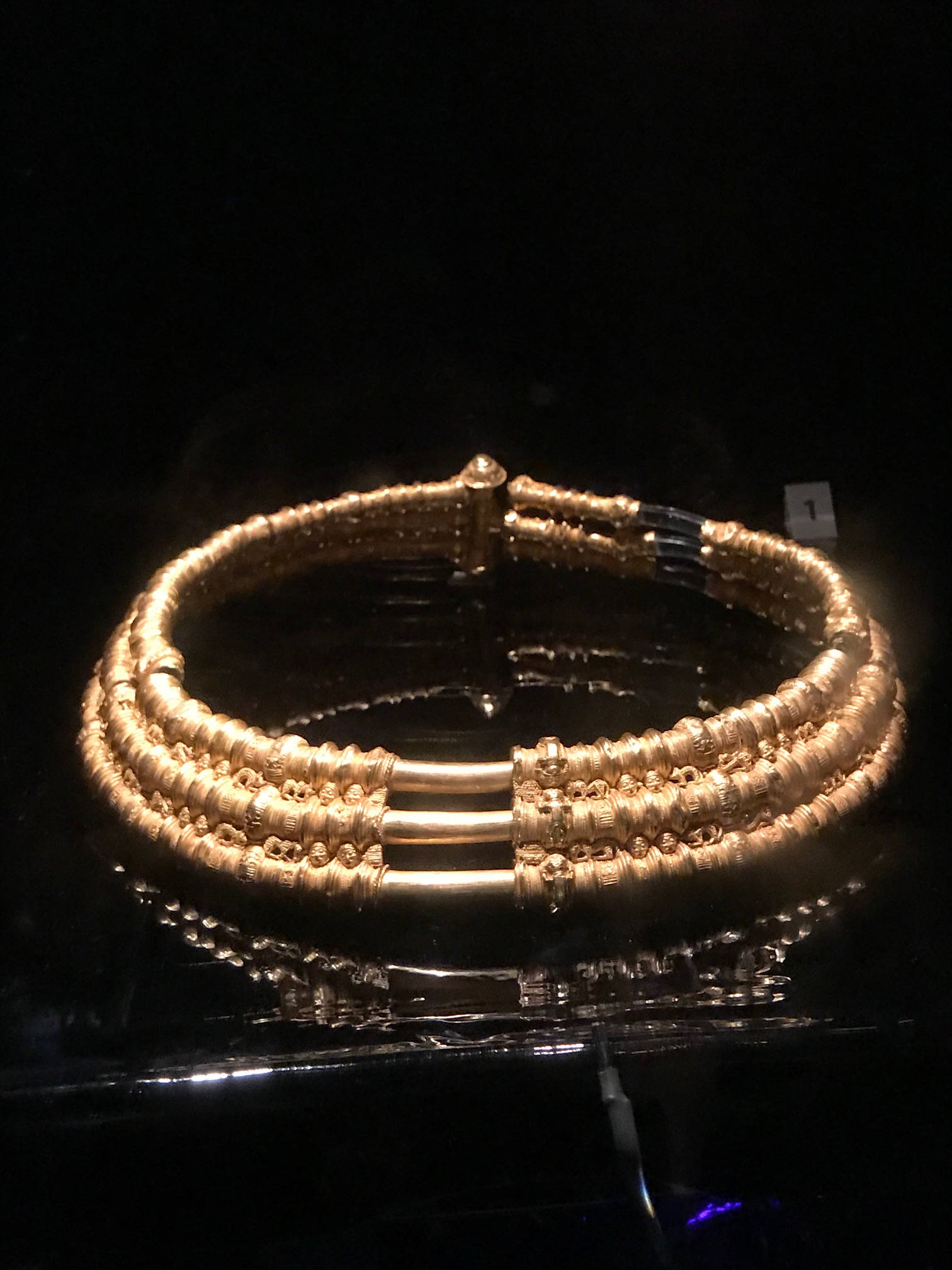 Viking Research: Gold Torc, Historical Museum, Stockholm
Vikingaliv Museum - also in Stockholm, this is a new museum that aims to correct some of the misconceptions about Vikings. There are some very interesting displays and lots of useful information - again, I recommend a visit!
---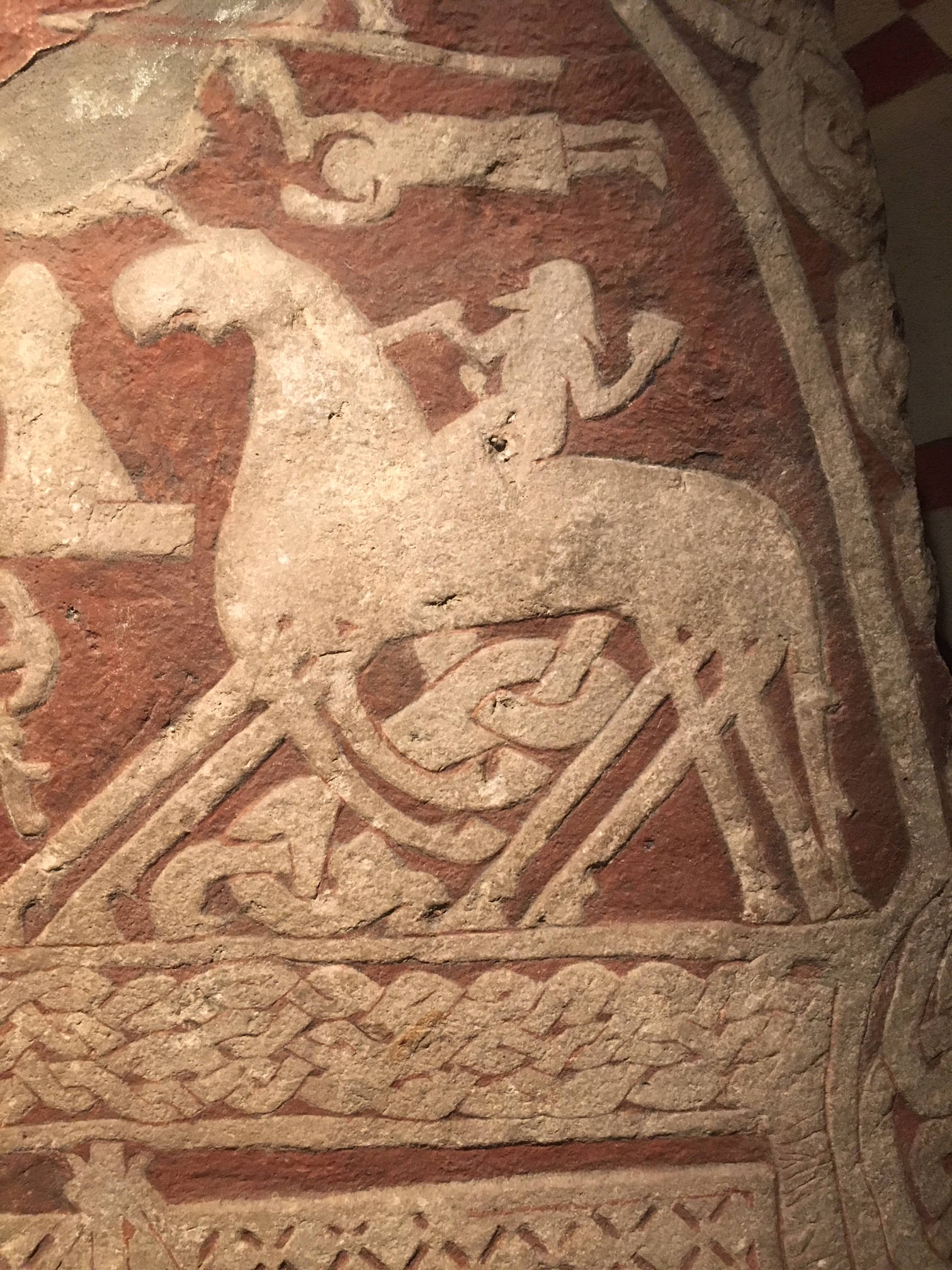 Viking Research image: Rune stone feaguring Odin's eight-legged horse, Sleipner
Birka - this is an island in Lake Mälaren, Sweden, which can only be reached by boat from Stockholm. The journey takes about an hour and a half, but it's well worth a visit. Birka used to be a trading town in the Viking era and there is now a museum with a scale model of what it would have looked like. You can also do a walking tour and learn about the graves found on the island, and there may be other activities as well. It's a truly beautiful place!
---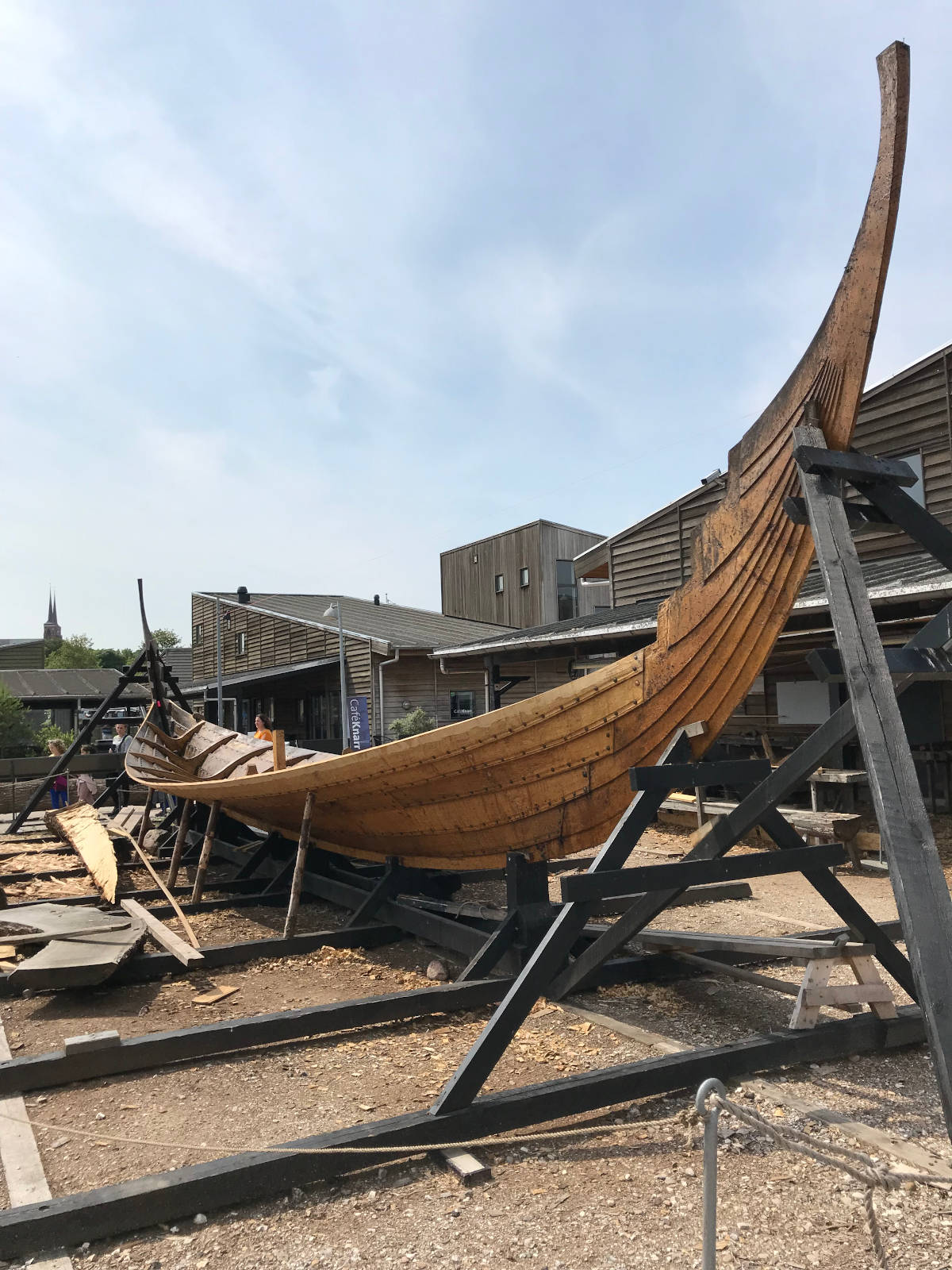 Viking Research: Longboat in Roskilde Viking Museum
The Viking Ship Museum in Roskilde, Denmark - this is the place to visit if you want to learn everything there is to know about longships. Not only do they have ships salvaged from the bottom of the nearby harbour, but they also have a boatyard where they build replicas. These are used for trips around the harbour - as long as you are able to row and you're prepared to work hard you can come along for a ride. It's a fantastic experience, not to be missed!
---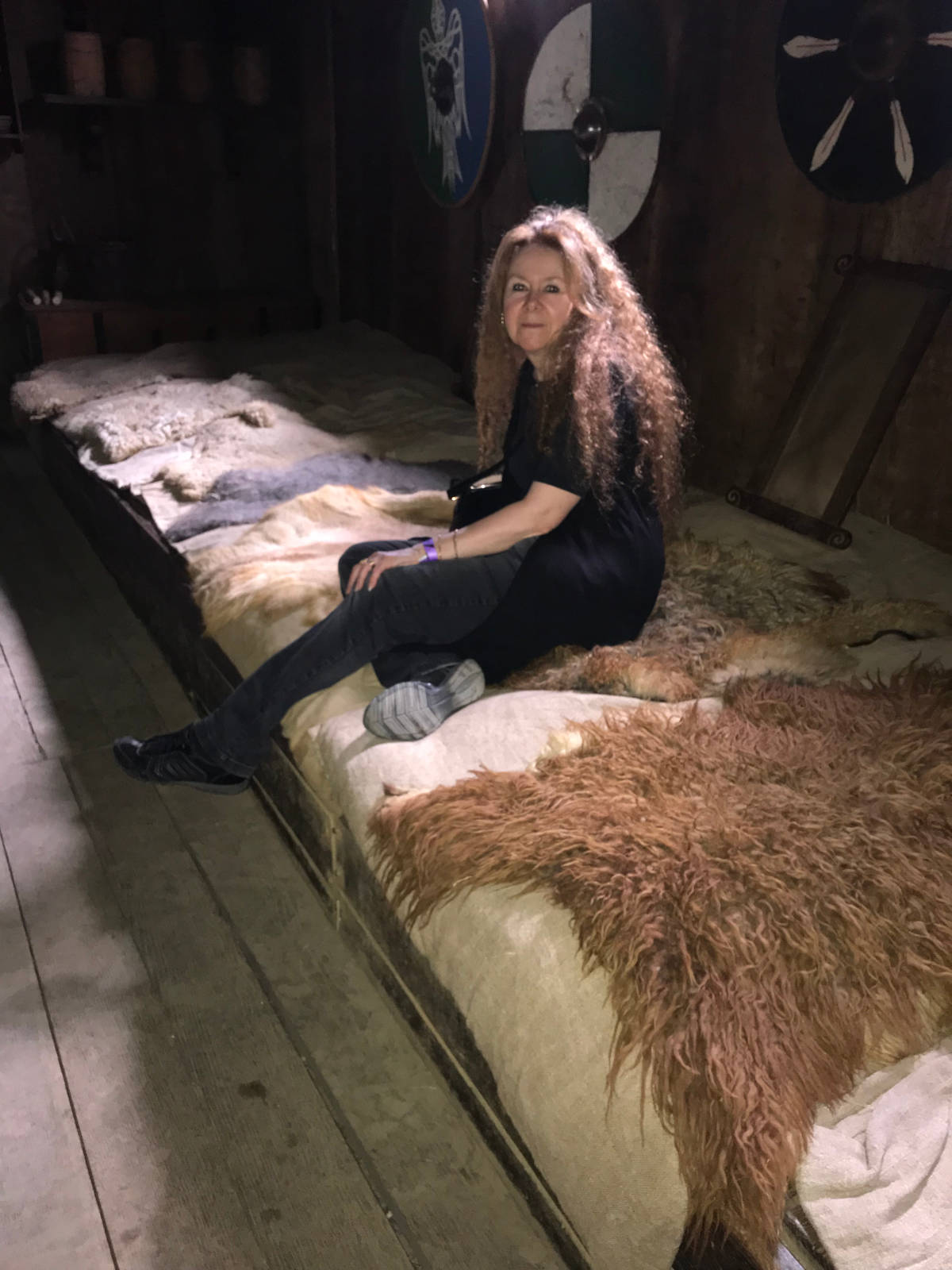 Viking Research: Viking Museum Ribe - Denmark
Ribe Viking Centre, Denmark - on the westernmost coast of Denmark there is a reconstructed Viking settlement which is also well worth a visit. I was able to sit inside a longhouse, lie on a bench covered in furs/pelts of various kinds, sit in a chieftain's chair and watch a range of Viking handicrafts being carried out. Amazing! And incredibly useful for research.
These are just some of the things I have done and I enjoyed them all!